Forbes Global Properties
Slifer Smith & Frampton is proud to be 1 of 10 founding members of Forbes Global Properties,
as well as a member other leading global real estate networks.
Who we are.
Forbes Global Properties is a new curated consumer marketplace that connects discerning buyers directly to the world's finest homes and the top-tier agents that represent them. With a presence in 70 countries, 50 million social touch points, and 5.8 million U.S. magazine readers, no other luxury real estate platform has the global reach or media power of Forbes.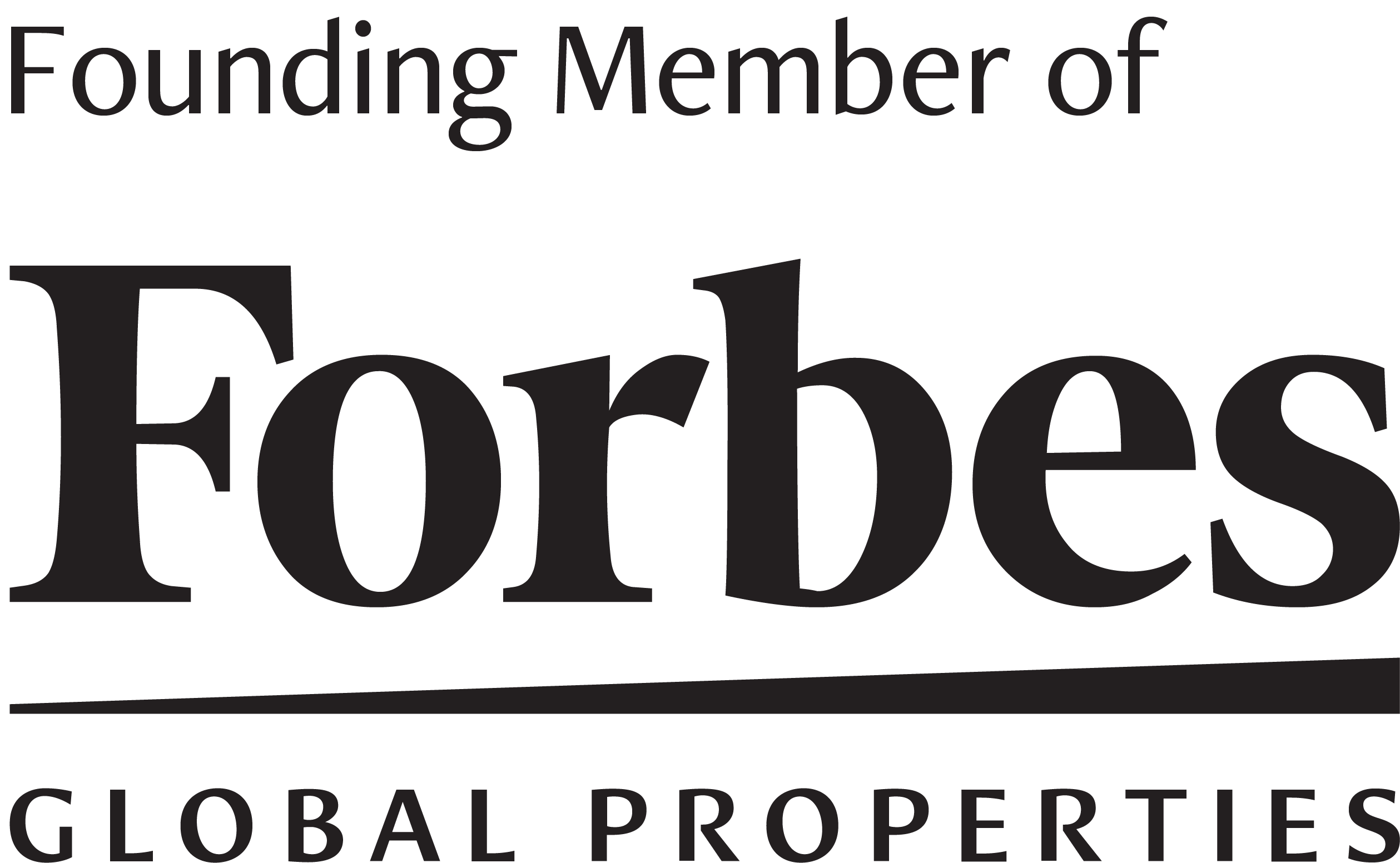 A new approach to luxury.
Slifer Smith & Frampton has been involved with the creation of this elite international network since 2019, developing a new real estate model that maintains local control while offering true global reach to the right kinds of real estate buyers and sellers. The partnership further boosts Slifer Smith & Frampton's already expansive national and international reach with the ability to capitalize on Forbes' audience of more than 140 million monthly global visitors.
The power of Forbes.
Forbes Global Properties shares Slifer Smith & Frampton's luxury listings with an influential worldwide audience, informing high-net worth homebuyers and sellers about the finest properties in the Colorado mountains, along the Front Range and around the world. Slifer Smith & Frampton also gains access to a powerful suite of resources including marketing tools, actionable analytics, curated editorial and social media content, as well as premier advertising and co-branding opportunities with Forbes.
Visit Forbes Global Properties
Our World-Wide Networks
Along with our exclusive Forbes Global Properties memberhips, we hold several other key global affiliations.
Leading Real Estate Companies of the World.
With more #1 market share companies in top markets in over 70 countries than any other platform, this global real estate network caters to individual clients, multinational corporations, investment groups, and relocation management services seeking the most distinguished homes around the world.
Visit LeadingRE
Luxury Portfolio International.
Spanning six continents and over 800 major cities, Luxury Portfolio International generates thousands of client leads and sales each year, curating more properties priced over $1 million than any other luxury property website.
Visit Luxury Portfolio International
Testimonials
" TONY OBRIEN HAS BEEN MY BROKER SINCE I FIRST BOUGHT PROPERTY IN BEAVER CREEK 25 YEARS AGO. HE HAS ALWAYS CARRIED THE BALL WELL FOR US. "
- Herman L. Boschken
" Knowledgeable, great follow up and responsiveness, friendly, personable. Incredible experience. "
- Kevin L. Murphy
" SSF lived up to its singular role in real estate in the Vail Valley. There's no doubt in my mind that I was successful purely because of SSF's and Tony's expertise and connectivity. "
- Matthew Ryan Maloney
" From start to completion of my sale, Tony O'Brien was very competent to find a buyer and the sale went very smoothly with Tony leading the way. The sale and closure was complete in a months time. Also, Tony followed up on a quick return of my maintenance fee from Vail Assoc. to me! I recommend him highly as I have worked with him since the late 80's until the present with always a very satisfied experience. I truly recommend him for a purchase or resale experience! A lucky find!!!!!! Madalyn Brogan "
- Madalyn Brogan
" TonyO'Brien is our man in Beaver Creek! Always on the ball and ready to do his best to help us out of state customers,,, have used him on multiple transactions and never failed to impress!! "
- Edward E. Haverlah
" From our purchase of St. James Place through years of using our timeshare, Tony O, Brien has always been available to meet & provide good recommendations on Beaver Creek & Eagle County. His assistance on the sale of our property was invaluable. "
- Thomas M. Stewart
" Tony is on it. He keeps us updated as the transaction goes and certainly follows up on questions that we had. "
- Art & Laura O. Morales
" We have been pleased with Tony O'Brien repeatedly over the 21 years of his stewardship with vacation ownership, both for St James and again Poste Montane. Tony helped us gather 5 summer weeks in the same St James unit, two weeks in a second unit, and also several ski weeks. He always treated us with the same respect as if we were buying a $20 million home! "
- Doug & Annette Finnegan
" Tony was very helpful. "
- William Michael Amick
" We have been working with Tony for over a year to find a perfect deal for our family. He always kept me posted on new listings and never got tired of sending us new opportunities to invest in. "
- Marcelo Gonzalez Zambrano
" We have known Tony O'Brien for over 30 years. He has always been courteous, attentive, and professional; yet personable and friendly. That is a winning combination for someone who you should be proud to have on your team. "
- Bini Investments
" Our broker, Tony O'Brien, goes over and above to help make transactions happen. I would definitely recommend him. "
- Richard Nichols
" Tony is a true professional - always follows up and serves his clients well, based on my experience. "
- St. James HOA
" We bought our condo from Tony 20+ years ago and it was super easy and enjoyable experience and so when we sold it this year there was not question that he would sell it for us. That transaction was just as easy and enjoyable!! I highly recommend Tony for his friendly professionalism! "
- Jack & Stacey Thurman
" n/a "
- Leonard F. Hopper Jr.
" Our family has used Tony O'Brien for several purchases at St. James Place. We have always appreciated his professionalism and friendship - so much so that we have recommended him to many friends who have purchased and sold through him. "
- Peter H. Parsinen
" Along with many other close friends we have trusted Tony to many years. He is dedicated to his profession and acts accordingly. "
- John & Betty Grigsby
" Tony O'Brien did a great job identifying and hearing and finding us a perfect property meeting our needs. He was very good on following up during and even after the sale. He did a great job with resolving and discussing items as they came up in the buying process. Look forward to working and referring people to Tony! Thanks Tony "
- Robert & Carrie Selton
" Tony and the whole SSF family were so professional and did a great job. Thank you. Dr. Joseph "
- George Joseph
" Tony was extremely efficient. He had a ready prospective buyer, and closed the deal in a matter of hours. He was present at the closing and saw to our every need. "
- Stephen T. Shenk
" The time between me enlisting the property and the sale was only a few days. Great service "
- Gabriel Guiza Montiel
" Tony is a great agent with quick accurate advice to my questions and adjustments with seller even though there was a time difference between BC and Tokyo. Thank you very much, Tony. I'd like to ask him again in future if needed. "
- Kae Yoshioka
" Easy! Smooth. No problems at all. "
- Claude Miller
" Tony O'Brien is awesome and a pleasure to work with! "
-
" Great service and very knowledgeable. Very helpful and responsive in assisting with buying process remotely. "
- Philip & Donna Harper
" We highly recommend Tony O'Brien for a real estate broker. He is attentive and timely. He is well versed in the real estate market. He works closely with his clients. He sold our fractional ownership property in 24 hrs. "
- John Murphy
" Knowledge of the local market, with supporting data, that is second to none. Can always be confident in the advice received and the marketing reach being obtained. "
- Robert Stanton
" Enjoyed working with Tony. He came highly recommended and did not disappoint. The process was spelled out in a clear and concise manner and went according to the way it was described. I look forward to using Tony for future transactions. "
- Tracey & Tonja Denson
" Great service and knowledge in assisting a remote purchase. Everything ran smoothly. "
- Philip & Donna Harper
" Mr. O'Brien provided 5 Star service throughout our transactions with him. He keep us informed every step of the way during our selling and buying process. We would recommend Mr. O'Brien to anyone who needs a top notch real estate expert. "
- Clinton J. Christianson
" Tony O'Brien was stupendous in this transaction. "
- Joe & Stephanie Fitzgerald
" I have had Real Estate transactions in Beaver Creek with Tony O'Brian 30 years ago and have referred him to several family members and friends and we always have had incredible support, Tony and his team are very professional and have done an oustanding job "
- Lorenzo Berho
" Our broker is phenomenal. Always kept us informed. Would use again without hesitation. "
- Richard Nichols
" Great experience with 'long distance sell'….Seamless transaction!!!! "
- Gayle Gregory
" Tony O'Brien sold us our Time Share at St. James Place @ Beaver Creek in I think 1990 or 1991! Was very impressed with him then and when wanting to sell it in 2018, he was the only person I would want to be my agent to sell it for me! Highly professional, friendly , and always made me feel welcome to contact him with any questions or concerns regarding our time share . "
- Karen Graves
" Tony was absolutely wonderful to work with. He was very responsive and provided a detailed response every single question we posed. We would definitely involve Tony in any future transactions in Colorado "
- Anthony
" Tony was extremely accommodating and helpful as we scheduled a same day showing of a unit during our last day in Beaver Creek before heading back home. He was very responsive with the many questions that followed in the days after up to and leading to our offer, especially as we are new to fractional ownership. Highly recommended any future plans will definitively include Tony O'Brien. "
- Anthony F. Petisco
" The best and most knowledgeable in the valley. "
- Richard M. Nugent Revocable Trust
" Have been working with Tony for over 20 years. He is incredibly patient, considerate and aware of the market conditions. I highly recommend him. Charlie Smith Minneapolis "
- Smith/Grein et al
" Tony was always responsive and helpful. Went the extra mile to help us with our new vacation property. "
- Patrick E. Morrison
" Tony O'Brien was the SSF realtor when I purchased my timeshare property, and 25 years later he guided me in the selling process. I appreciate that through the years he was always available for consultation, and heartily recommend him because of his knowledge of properties and the Vail Valley area. "
- Barbara Hinds
" I have worked with SSF on three purchases and two sales. I have been completely satisfied every time. Through its market presence, property knowledge, market knowledge and ease of in-person access, SSF has consistently delivered sound advice and responsive service. "
- Robert Stanton
" very professional organization that will treat you like family "
- Thomas Shands
" We had a great experience with Tony O'Brien of SSF. He was very patient with us in the over 2 plus years of looking for just the right home. Tony's knowledge of the local area and neighborhoods was invaluable in helping us select the home of our dreams. The whole buying process went very smoothly! "
- Lawrence Andrew Dobrot
" It has been a very good relationship since day one. We came as guests the first time and came back home as owners of one unit. SSF help has been more than great since then and we really feel like friends instead of clients. "
- Paolo Carlutti
" Tony made the transaction seamless and stress free. "
- GilbertHenry Smith
" Tony O'Brien has been great with both our original purchase and the sale of our property. I was also extremely impressed with the closing agent on our sale. Very professional and they did what they said they would do. It was a seamless process. "
- Raymond Kruel
" Tony is great to work with - responsive and on point with an comminications "
- Dave A. Trout
" Steve Cardinale and Tony O'Brien provided the best possible service in selling fractional ownership property. Steve and Tony have years of experience and a wealth of knowledge in selling real estate. They are very professional and I highly recommend them. Thank you, Bernie Scharf "
- Bernard M. Scharf
" We absolutely recommend this agency and its staff in all ways "
- Paolo Carlutti
" Tony was awesome to work with. He was prompt in his responses to my questions and went above and beyond to explain the fractional ownership structure and process. "
- Ronald W. Helms, Jr.
Previous
Next